POLITIK HUKUM DI DALAM HAK KEBEBASAN BERPENDAPAT PADA UNDANG-UNDANG NOMOR 1 TAHUN 2023 TENTANG KITAB UNDANG-UNDANG HUKUM PIDANA
Legal Politics in the Right to Freedom of Speech in Law Number 1 of 2023 Concerning Book of Criminal Codes
Keywords:
Hak Asasi Manusia, Hukum, Pemerintah
Abstract
Human rights are an essential part of the constitution. Therefore, any regulations should place human rights as the main paradigm in their formation process. Law Number 1 of 2023 concerning the Book of Criminal Code is a legal product emerged from a prolonged process. It is since the Indonesian legal system has a dream to have criminal law regulations that are in line with the values of the Indonesian nation. This concept is based on the fact that the previous Book of Criminal Code was a colonial legacy which of course was not in line with the traditions of the Indonesian nation. However, the existence of Articles 217 and 240 paragraph (1) of book of Criminal Codes which provide criminal sanctions for perpetrators of insulting against state institutions, government or President raises concerns that Indonesian law stands upright not to be in line with human rights principles. Based on that review, this article aims to answer the question of what it is the ideal political law related to insulting against President, state institutions or government to ensure that the Indonesian legal system is in line with human rights values, especially the right to freedom of speech. Normative juridical with comparative study was applied in this study. The hypothesis was that the provisions in Articles 217 and 240 paragraph (1) of Law Number 1 of 2023 contradict to human rights values.
Keywords: human rights, law, government
Hak asasi manusia merupakan bagian penting dalam konstitusi. Oleh karena itulah, setiap regulasi apapun sepatutnya menempatkan hak asasi manusia sebagai paradigma utama dalam proses pembetukannya. UU Nomor 1 Tahun 2023 tentang KUHP merupakan produk hukum yang lahir dari proses yang berkepanjangan. Hal itu disebabkan, sistem hukum Indonesia mempunyai mimpi untuk mempunyai peraturan hukum pidana yang selaras dengan nilai-nilai bangsa Indonesia. Konsep tersebut disebabkan KHUP sebelumnya merupakan warisan kolonial yang tentu saja tidak selaras dan sejalan dengan tradisi bangsa Indonesia. Akan tetapi, adanya Pasal 217 dan 240 ayat (1) KHUP yang memberikan sanksi pidana bagi pelaku penghinaan terhadap lembaga negara, pemerintah atau Presiden memunculkan kekhawatiran bahwa hukum Indonesia justru berdiri tegak untuk tidak sejalan dengan prinsip hak asasi manusia. Berdasarkan hal tersebutlah, artikel ini hendak menjawab pertanyaan bagaimanakah politik hukum yang ideal terkait penghinaan terhadap Presiden, lembaga negara atau pemerintah untuk memastikan sistem hukum Indonesia selaras dengan nilai-nilai HAM khususnya hak untuk menyatakan pendapat. Metode penelitian yang penulis gunakan adalah yuridis normatif dengan menggunakan studi komparatif. Hipotesis dalam artikel ini adalah bahwa ketentuan dalam Pasal 217 dan 240 ayat (1) Undang-Undang Nomor 1 Tahun 2023 bertentangan dengan nilai-nilai hak asasi manusia.
Kata Kunci : Hak Asasi Manusia, Hukum, Pemerintah.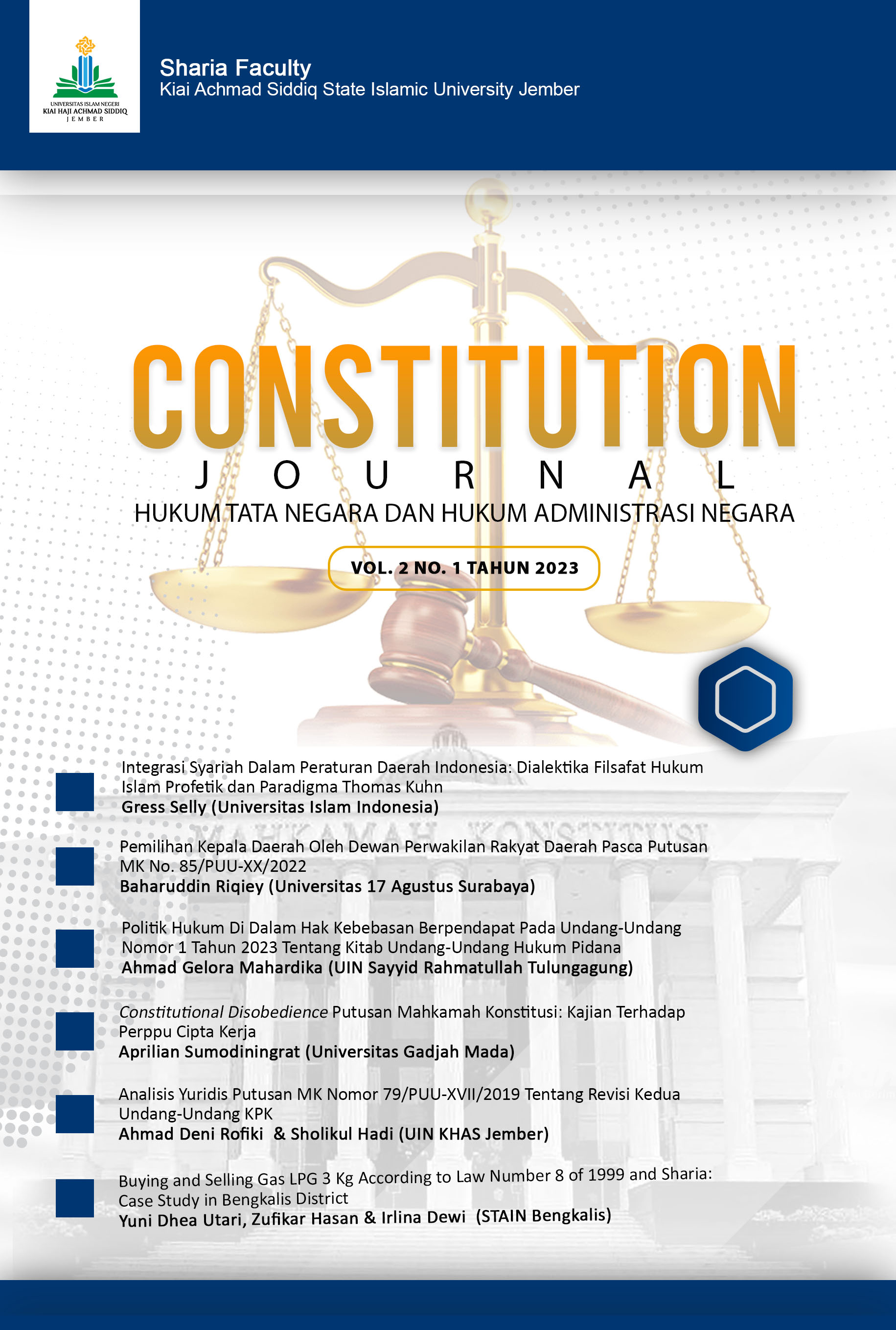 Downloads
How to Cite
Mahardika, A. G. (2023). POLITIK HUKUM DI DALAM HAK KEBEBASAN BERPENDAPAT PADA UNDANG-UNDANG NOMOR 1 TAHUN 2023 TENTANG KITAB UNDANG-UNDANG HUKUM PIDANA: Legal Politics in the Right to Freedom of Speech in Law Number 1 of 2023 Concerning Book of Criminal Codes. Constitution Journal, 2(1), 31–58. https://doi.org/10.35719/constitution.v2i1.45
License
Copyright (c) 2023 Ahmad Gelora Mahardika
This work is licensed under a Creative Commons Attribution-ShareAlike 4.0 International License.